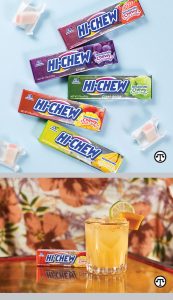 (NAPSI)—It's that time of year again! Warmer weather calls for summer road trips, long days at the beach, and poolside gatherings with family and friends. Make your next summer adventure extra special, and very sweet, by bringing along the ultimate snack, HI-CHEW™.
Made with real fruit juices and purees, HI-CHEW's immensely chewy texture and intensely fruity flavor make it the ideal candy to add to your summer escapades. Not only is the candy fruity and chewy, but it is also 100 percent free of gluten, cholesterol and artificial colors, making it a balanced treat for everyone to enjoy.
Road trips are never complete without the perfect snack selection. Stock up on HI-CHEW™ sticks and mixed bags, two convenient formats for any journey ahead. The classic sticks include 10 individually wrapped chews, making your favorite flavor a packing essential. It's available in seven delicious, real-fruit flavors that bring satisfying juiciness in each and every chew: Strawberry, Green Apple, Mango, Grape, Banana, Kiwi and Açaí. The sticks can easily fit in a pocket or bag, allowing your favorite candy to be enjoyed anywhere on the go.
Long days at the beach can be relaxing, but sometimes you need to bring along the fun in the sun. Add a burst of vibrant flavor to your sunset experience with a variety of fruit flavors, available in mixed bags. Pick up a HI-CHEW™ Original Mix, Tropical Mix or Sours Mix for your beautiful beach day and your friends and family will appreciate the assortment. To fill your beach totes with the most popular flavors, the Original Mix includes classic favorites such as Strawberry, Green Apple, Mango and Grape in a large 14.1-oz. bag, perfect for groups. Alternatively, transport your taste buds to paradise with the Tropical Mix, which includes an exotic twist with a mix of Kiwi, Mango and Pineapple flavors in a 3.53-oz. bag. Lastly, for a sour citrus tang, Sours Mix comes in a 3.17-oz. bag with three flavors including Grapefruit, Lemon and Lime. Each piece is individually wrapped and delivers a bright and flavorful taste, making it great for sharing with friends.
If you're feeling creative while hanging poolside, try infusing the candy into a refreshing cocktail. Delicious to sip and simple to make, all you need to do is dissolve a HI-CHEW™ piece in a liquor of choice and mix in your favorite cocktail ingredients. The infusion ratio is one piece of chewy candy per ounce of liquor; just soak the candy until it dissolves. For starters, try this margarita-inspired cocktail with a mango candy twist:
Mango Chile-rita
1½ ounces Mango HI-CHEW™ Infused Reposado Tequila
1 ounce fresh orange juice
¾ ounce fresh lime juice
½ ounce simple syrup
1 dash Bittermens Hellfire Habanero Shrub (optional)
Kosher salt and cayenne pepper for garnish
Run a lime wedge along the lip of one half of a rocks glass, then roll that side of the glass in an equal-parts mix of kosher salt and cayenne pepper. Measure all the ingredients into a cocktail shaker. Fill with ice, shake vigorously, then strain over fresh ice in the prepared rocks glass.
Where To Get It
You can learn more and purchase HI-CHEW™ online at www.HI-CHEW.com.