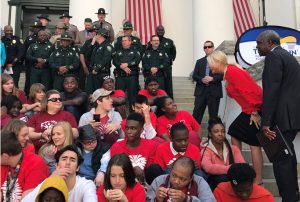 This week, I had the pleasure of kicking off the 2018 Law Enforcement Torch Run benefiting Special Olympics Florida. This year, Special Olympics is celebrating its 50th anniversary, and to mark this milestone, local, state and federal law enforcement officers, corrections officers and support staff will carry the Flame of Hope 1,500 miles throughout Florida to bring awareness to Special Olympics.
Eight thousand members of Florida's law enforcement and corrections community will carry the torch in a relay to the opening ceremonies at the Annual Florida State Summer Games. This year's games take place May 18-19 at the ESPN Wide World of Sports Complex in Lake B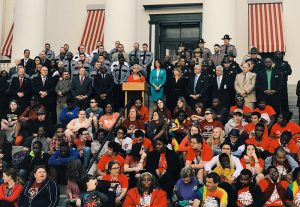 uena Vista. In Florida, more than 46,000 dedicated athletes participate in Special Olympics activities to showcase inspiring strength and skill for the world to see.
The Special Olympics is a global movement that serves more than four million athletes in 169 countries. The organization empowers athletes to improve physical fitness, build confidence and find new friendships, all while having fun and learning life lessons. I want to commend the 156 runners from the Florida Department of Law Enforcement and the more than 50 runners from my office who participated in this amazing event.
For a schedule of the Law Enforcement Torch Run routes by county, click here.
For more information about Special Olympics Florida and how to get involved, visit SpecialOlympicsFlorida.org.