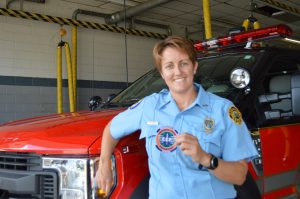 (OCALA, Fla.) July 17, 2018 – After months of seemingly endless practical and theoretical sessions, Ashley Andrews, Ocala Fire Rescue Firefighter/Paramedic, has become a certified Critical Care Paramedic (CCP).
Seeking a challenge and further knowledge of the field, Andrews, a 10-year department veteran, enrolled in the University of Florida's Critical Care Paramedic program. "I have never been more academically challenged," said Andrews of the immersive program. "Although [the certificate] was difficult to attain, it was certainly worth it."
During the five-month program, topics ranging from biomechanics of ventilation and ventilator management to invasive blood pressure monitoring, and neonatal care, were covered through didactic and hands-on sessions. Despite requiring that program participants be experienced paramedics, the volume of material covered tests each student's desire to obtain the CCP certification. Only those who learn the material as second nature successfully complete the program.
Andrews is the fourth department member to earn the Critical Care Paramedic Certification. Other Ocala Fire Rescue CCP's include Jesse Blaire, Tim Carver, and Robert Moore.